On this page you can read more about these amazing fibers!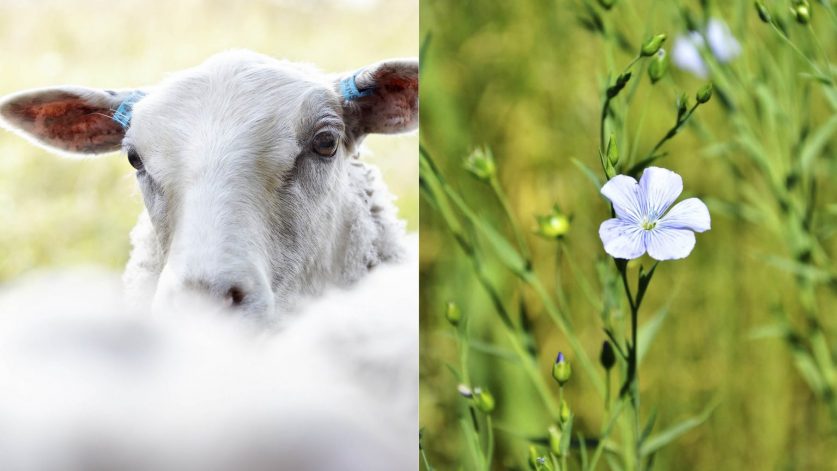 Wool
Wool is a natural fiber with many amazing qualities and for thousands of years it has protected us from the elements. Still, enormous amounts of wool are discarded in Sweden every year – why is that? Could it be that everyone does not yet know all the superpowers of wool?
Swedish Wool week 4 – 11 September 2021
Starting on Hemslöjdens dag (the day of Handicraft) this year Wool week is launched for the very first time, during this week we want to put focus on the Swedish wool together with everyone, within or outside Hemslöjden.
During Wool week, everyone that appreciate, work within the field, and want to highlight the Swedish wool, are welcome to join us. Our partner is the association Ullvilja. We will present a digital program which starts on September 4th and ends on September 11th. The program will be available on our website and consists of discussions on relevant topics, inspiring lectures, information, and courses.
Baltic Wool Conference 7 – 8 October 2021
Baltic Wool Conference is an international meeting place for companies working with wool, scientists, sheep breeders and other people that are involved in the processing of wool. The conference intends to create networks, increase the exchange between entrepreneurs and encourage the business development surrounding this sustainable fiber. The coordinators for BWC 2021 are:
Fia Söderberg, Ullförmedlingen och Ullpodden
Annkristin Hult, National developer NFH
Anso Norling, Hemslöjdskonsulent Gotland
Riina Noodapera, Baltic Wool Cooperation
Jenny Andersson, Ullkontoret
Frida Lindroth, Gotland Convention Bureau
Read more about Baltic Wool Conference here.
About wool
The Swedish handicraft association wants to highlight the Swedish wool – our super fiber. Therefore, we published the booklet Om ull (About wool) where we gathered information about wool and sheep.
This booklet contains everything you need to know about wool – from different breeds of sheep and their diverse wool qualities to how the carding and spinning of wool works. Common misconceptions, that all wool itches and that wool garments are difficult to wash, are debunked. In an easy-to-understand way, skillful people explain, for example, how the fiber is constructed and the felting abilities that wool possesses. You get to meet people that work with wool in different ways and there is also a couple of descriptions for wool products you can make yourself.
Read more about the booklet here (in Swedish).
Wool for life – A travelling exhibition
Wool for life (Ull för livet) is a travelling exhibition that presents small scale domestic wool handicraft and showcase the perks and usages of sheep wool. The wool comes from Swedish sheep and the yarn is spun at Swedish spinning factories. A natural material in nature's own color scheme.
The exhibition is produced by handicraft consultants and regional developers in Sweden, to create collaboration and to boost the domestic wool industry, from a handicraft- and knowledge perspective. Read more about the exhibition here.
From newly cut sheep wool to yarn – how does it work?
Follow Hanna Söderback on a tour in Ullforums mini mill in Ås, outside of Östersund. Hanna shows all steps that the sheep wool passes through on its way to becoming yarn. From when the sheep farmer delivers newly cut wool in bags to a finished skein of yarn, ready to be knitted.
Link to the post in Swedish.
Project 1 sqm of flax – It all started with an old towel
One of ethnologist, Inger Widhjas most beloved textiles is an old towel. Ordinary at first sight and made with strands of handspun linen thread. 
When Inger was little, there was heaps of strange tools in her grandmother's attic. What is this? How do you use this? Can you show me?Her grandmother then gave Inger one square meter in the garden, where they together sowed linseeds.
"The seeds shall lay so tightly that the corncrake slips on them", Inger remembers her grandmother's words. Together they completed all the steps in the preparation of the flax, the entire process until the finished fabric. 60 years later, the towel is still one of Inger most priced possessions. Inger's story birthed the idea for the project.
Watch this video where Inger tells her story (english subtitles)
The project started in 2020
The project started in Västra Götaland during the spring of 2020, this resulted in just over 700 participants joining to grow flax. In 2021 this became a national project where all Handicraft organizations, handicraft consultants and regional developers invited people to grow linseed – from north to south, from seed to fiber.
"With this project we wanted to raise interest in flax and to build textile relations. We mean that, when you gain insight into what textile is, in this case a small bag of seeds that grows into a strong fiber, you will learn to appreciate textile more. You learn to look at towels at flea markets in another way and place the textile in a larger context. We also wanted more people to discover the joy and utility of handicrafts, the joy to create together and to create something yourself."
Read more about the project here (in Swedish).
Flax
Flax belongs to the plant family Linum. Around the world there are over 170 wild species and there is a large variation between the different sorts. There is perennial, biennial, low-growing, wild and different colored plants. In Sweden there is a wild-growing flower that belongs to the flax species: Wild flax – a small herb that thrives in damp fields. Wild flax becomes approximately 15 cm tall and has small white flowers.
Flax for oil and flax for spinning – What is the difference?
The flax we grow in this project is called Linum usitatissimum in latin, which means "the highly useful linen". There are two different sorts of this flax, namely flax for oil and flax for spinning.
Flax used for oil is short-grown and has a lot of branches so it can carry numerous seed capsules and therefore many seeds to press oil out of.  The seeds are larger than the ones growing on flax used for spinning and the fibers are badly suitable to make thread out of.
The oil from linseeds has been used for a long period of time, e.g., for making paint and impregnation. In the past, fishermen's clothing was made waterproof by impregnating them with linseed oil.
Flax used for spinning have seeds that create a plant suitable to make thread. Nice long stems with few branches give long fibers to spin. When preparing flax, you use several different methods to expose the long spinnable fibers within the stem.
Read more about flax here (in Swedish).
Opening webinar on March 28 2022
Join us in an opening webinar where we share our knowledge of flax cultivation in the Nordic countries, some Swedish experiences of home cultivation and a bunch of practical tips how to start it yourself. Things get concrete when you take the trip with the fibre and grow yourself one square metre of flax.