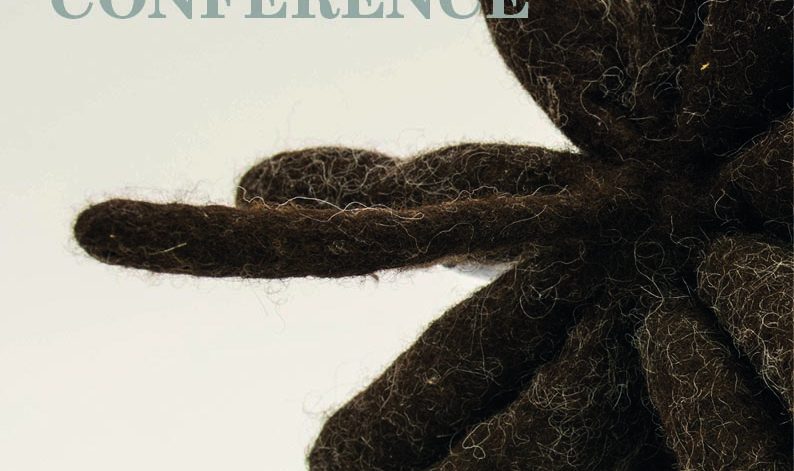 In May 2018, Skåne Hemslöjdsförbund (The Handicrafts Association of Scania) is hosting the Internaltional Feltmakers Association´s AGM (Annual General Meeting) and at the same time will host an international felting conference in Landskrona in the South of Sweden. The conference is open for all feltmakers. The conference's focus is to look at local resources and handcrafts, such as the different varieties of Swedish wool and local Skåne wool embroidery. The conference will be held in english
Programe
Thursday 3rd May
14.00-17.30 Registration at Hemslöjden in Skåne located in Landskrona old railway station at Österleden 10. If arriving early, you can take the opportunity to participate in a 1.45 hour city walk, visit the Landskrona museum or the art gallery.
18.00-22.00 Official opening of the conference at Landskrona Theatre. Welcome by representatives of Landskrona City, Skånes Hemslöjdsförbund and the International Feltmakers Association. Buffet with the opportunity to mingle and meet friends, old and new. 
Annhelén Olsson, CEO Skånes Hemslöjdsförbund, will deliver a lecture and slideshow of Skåne's rich textile tradition.
Friday 4th May
08.30–16.00 The group is split into two for the workshops and excursion. Half the group will make an excursion while the other half participates in a workshop. See separate information sheets.
16.30-18.00 IFA AGM 2018 at Hotel Öresund in Landskrona. Only IFA members
18.30-21.30 Dinner at Hotel Öresund. After dinner, Alan Waller will make a presentation 'A Deeper Look at Wool' and talk about the origins and development of the domestic sheep based on modern DNA research. Alan, who is born in the UK but has lived in Sweden for many years, is one of Sweden's leading experts in wool and is very knowledgeable about the differences in wool from Nordic and British breeds.
Saturday 5th May
08.30-16.00 The group is split into two for theworkshops and excursion. Half the group will make an excursion while the other half participates in a workshop. See separate information sheets.
18.30-21.30 Gala dinner at Citadellet. Here we enjoy a Nordic buffet. Citadellet, where the oldest buildings date back to the mid-16th century, is part of the Landskrona Castle encircled by a moat and stone walls built to defend the city. Citadellet is beautifully situated by Lake Öresund and, today, the area is a well-known recreation area. After the dinner Gunilla Paetau Sjöberg will tell us about her life and work as a feltmaker.
Sunday 6th May
09.00-12.00 Kerstin Paradis Gustafsson will present the exhibition of her collection of felted carpets from Kyrgyzstan and talk about her many visits to the country since 1990. The exhibition is presented at the Hemslöjden facitilies in Landskrona. 
Yvonne Habbe will tell us how her creative nomadic thoughts led her to felt a pot with enough room to accommodate herself. An extra, extra, extra large felting project!
12.00 – End of the conference. Sandwich lunch that you either can eat on site or take away with you if you have a flight to catch.
Excursion
The excursion goes to the beautiful Bjäre in Northwest part of Skåne and a sheep farm in Örkelljunga. In Båstad, we visit the luxury carpet weaving studio that Märta Måås-Fjetterstöm started in 1919 where they still weave woolen carpets by hand to her designs. There will be a guided tour of the business and hear of its history. We will also visit Vävaren i Båstad, a small family-owned weaving company that weave home textiles in linen in the same way as in the 1940s. We will see the weaving studio and visit their shop. Lunch is served at the Orangeriet restaurant in the beautiful garden of Norrviken's Trädgårdar that overlooks the sea of Laholmsbukten. After lunch, the journey continues to Bodil's Bod outside Örkelljunga. Bodil Zadig and her husband have a flock of Gotland and Leicester sheep. Bodil will tell us about their business and serve us coffee. We will have the opportunity to see the sheep and their little shop with wool and sheepskin products.
Presentations
The textile wealth of the Skåne region– presented by Annhelén Olsson
A Deeper Look at Wool– presented by Alan Waller
The Nomadic Way of Felt– presented by Yvonne Habbe
A Kyrgyzstan World Heritage: The Yurt and its Carpets– presented by Kerstin Paradis Gustafsson
From the sheep pasture to the National Gallery –presented by Gunilla Paetau Sjöberg
Workshops
The workshops will be held in one of two venues:
1. Hemslöjden's premises in Landskrona based in the old railway station or
2. Kulturskolans about 10–15 min walk from Hemslöjden/Hotel Öresund
All workshops will be in English.

Materials will be available to buy either directly from the tutor (cash only) or fromthe Hemslöjden shop (cash or card). You will receive more details after you have booked. The cost of materials varies depending on the workshop and is listed in Swedish Kronor (SEK).
Small, Multi Facetted Sculptural Objects– Yvonne Habbe 

Felt a Fleece– Erik Torstensson 

Felting with Swedish Wool– Vera Frederiksen Zhotkevich 

Traditional Wool Embroidery from Skåne– Eva Berg

More information and registration:
hemslojdeniskane.se/ifa2018
Cancellation Policy
You have the right to cancel your booking within 14 days without any cost. Further booking terms and conditions can be found at  hemslojdeniskane.se/conditions